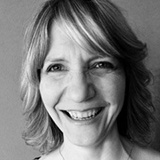 Vicki Hawkins completed her Physiotherapy degree at University of Toronto. Previously she obtained an honours degree in Kinesiology with a Certificate in Sport Therapy and a Certificate in Fitness Assessment at York University. She is a member of the Women's Health Division of the Canadian Physiotherapy Association. She is also a member of IADMS (International Association of Dance Medicine and Science) and PAMA (Performing Arts Medicine Association). She has been a Clinical Instructor with the University of Toronto, Department of Physiotherapy since 2003 and held a Status-only Appointment with the University of Toronto from 2009 until 2015.
She has completed a variety of continuing education courses including Manual Therapy, Muscle Energy, Scoliosis, the Pelvis, Pole Walking, and Yoga Therapy. She has worked with members of the University of Toronto Music Program, York University Dance, Theatre & Music Programs, the Ryerson University Dance Program, OCAD University, Humber College Music Program, The Royal Conservatory of Music, Canadian Opera Company, Canada's National Ballet School, Toronto Dance Theatre, Ballet Creole, Toronto Symphony Orchestra, Opera Atelier, and a variety of television and film programs. She also worked with the Mirvish musical, A Chorus Line.
In 2010, Vicki completed her Level 1 certification as a GYROTONIC® Trainer. In 2011, she completed her Level 1 certification as a GYROKINESIS® Trainer. The GYROTONIC® exercises are used alone or in conjunction with treatment to help her clients achieve optimum wellness.
Vicki 's interest in becoming a therapist for artists began as a student at The School for Toronto Dance Theatre and the University of Calgary Dance Program.
GYROTONIC and GYROKINESIS are registered trademarks of Gyrotonic Sales Corp and are used with permission.